When comes to music product, each have it's own taste of which software they like the best. I've been using FL Studio since I was a kid and all I could remember doing was drawing notes on the channel rack and just create a entire song out of it instead of utilizing the playlist for separate tracks and all.
FL Studio does offer a complete package with all plugins bundled. Even for starters, there is optional plugins you can purchase if you stumble across the lowest tier of all. I mostly resort to 3rd party plugins like Spire, Serum (thanks to Rent to Own from Splice). Sites like Splice and W. A. Production has plenty of resources you can choose from.
After having purchased Bitwig Studio in 2021, my attempt of creating a full fledged song has failed me. Simply I wasn't ready. Fast forward to 2022, it's time I gave another shot.
Bitwig also allows you to import your FL Studio files.
Let's talk about some differences:
Layout of course is a big difference. FL Studio separates channel rack, mixer and playlist. Bitwig Studio is taking the Ableton approach. As for arrangement, mixing and editing, you can go to the bottom and flick through those tabs. In terms of arrangement, I like FL Studio's approach as you can group few different racks in a single playlist.
The sound browser is located on the left in FL, while Bitwig is on the right. In Bitwig, this is where you pick your VSTs as there is no plugin browser like FL Studio with thumbnail support. The toolbar are much more simpler compared to FL Studio with it's overwhelming features.
I always loved when FL Studio has it's own volume channel on the mixer that are separated from the rack. If you ever need to adjust the volume without massing up the automation. Where's Bitwig (like many DAWs) just have one volume channel that shared between the rack and mixer.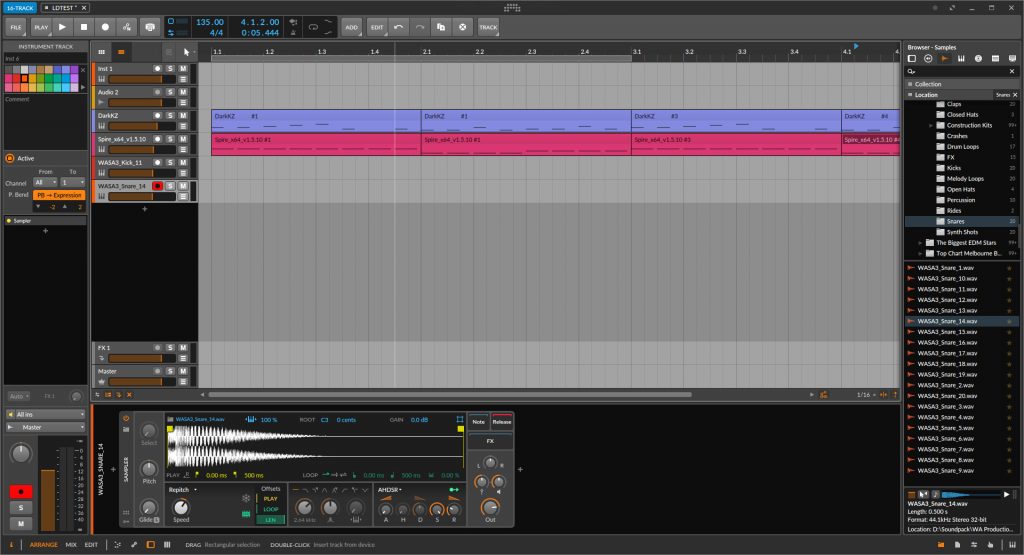 Drawing notes are something I have not got used to in Bitwig. Bitwig opens up a small window that attaches to the bottom for drawing notes. Of course you can go to the edit tab down the bottom to get full screen note editing. Where as FL Studio by default, has a full window. I believe you can also have the same sort of layout as Bitwig Studio, but I never tried it.
Fit to tempo is another feature I use alot in FL Studio. If a sample has bpm embedded, it will automatically fit the tempo to the project. Bitwig has the stretching tool to do that. I will only need to do that in FL Studio if the estimated tempo is way off.
There is no simple way of duplicating a section of a rack (if you will) in Bitwig studio when making arrangements (Is the ctrl key). FL Studio allows you to hold down the shift key to do that.
The bottom line is if you used Ableton, Bitwig Studio most likely more easier to handle. But as for someone who used FL Studio for so long might not get used to Bitwig Studio or vice versa.
Post from umad-falala also explained some of the differences.